Krehbiel's SpeedPrint is totally family owned and operated. When the phone rings, Vietta Krehbiel answers the phone ready to take your order.
Deve and Vietta Krehbiel
owners

Location:
320 N Main St.
Hesston, KS 67062

Shop Hours:
8AM - 12PM
1PM - 5PM
Mon-Fri CST

Toll Free: (800) 322-6079
(620) 327-3004
Fax: (620) 327-3025
Email: Vietta@SpeedPrint.com


Ordering is Easy!
SpeedPrint is dedicated to providing your high quality artwork as quickly as possible! To this end, we have several methods of order placement, all suited to your specific needs:
Mail Your Order
You may send your order via standard US Mail. Please include a photo-ready sample of the artwork you desire, such as one of your current envelopes. Please include the largest, highest quality artwork you have! This will ensure you are happy with the crisp, clear graphics you receive in return. We are always happy to adhere to special instructions, so if there are any, let us know. In any case, please give us a contact phone number so we can just go over the order with you before processing.
Email Your Order
You may submit your order via EMail. Please attach your print-ready file or artwork in Gif, Tiff, JPG, PNG, EPS, Word, Pagemaker, In-Design, Photoshop, or Illustrator format. Other formats may be acceptable, please call for details.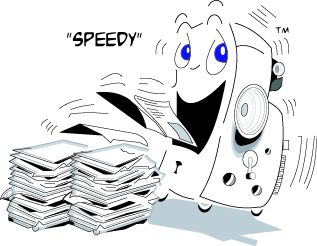 >
Call in Your Order
Please call us at (620)327-3004, or Toll Free: (800)322-6079. We will be happy to evaluate your options, and provide advice on how to best submit your artwork to us. We just want to do it right.
You can also use any of these options to describe your print layout, defining typefaces and sizes if you do not have a logo or other special artwork to add to your order.
We welcome your business, and we will strive to keep it. Call us today!!
Warmest Regards,
Deve & Vietta Krehbiel,
Owners
Krehbiel's SpeedPrint