Krehbiel's SpeedPrint is totally family owned and operated. When the phone rings, Vietta Krehbiel answers the phone ready to take your order.
Deve and Vietta Krehbiel
owners

Location:
320 N Main St.
Hesston, KS 67062

Shop Hours:
8AM - 12PM
1PM - 5PM
Mon-Fri CST

Toll Free: (800) 322-6079
(620) 327-3004
Fax: (620) 327-3025
Email: Vietta@SpeedPrint.com



>
At SpeedPrint our focus is on fast, efficient single color envelope printing at the lowest possible price. We offer amazing speed in shipping your order via UPS. Our prices include logos, postal bar codes, everything you would expect, at no additional cost. The call is Toll Free, the order comes right to your door, and we would appreciate your business!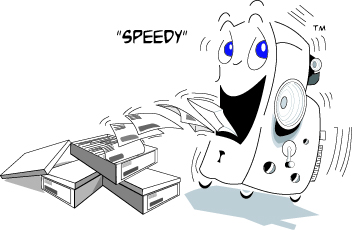 >
Our strongest asset is that we print in black ink almost exclusively, with few exceptions. This means you are not paying for press cleanups or color mixing, resulting in delays in processing and additional charges. Printing black ink (including shades of gray) in high resolution on high quality envelopes allows you to showcase your business while saving money. Check out our Services, and Call our nationwide Toll Free number today!