Krehbiel's SpeedPrint is totally family owned and operated. When the phone rings, Vietta Krehbiel answers the phone ready to take your order.
Deve and Vietta Krehbiel
owners

Location:
320 N Main St.
Hesston, KS 67062

Shop Hours:
8AM - 12PM
1PM - 5PM
Mon-Fri CST

Toll Free: (800) 322-6079
(620) 327-3004
Fax: (620) 327-3025
Email: Vietta@SpeedPrint.com


Our Mission Statement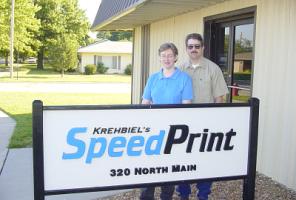 >
Hello! We're Deve & Vietta Krehbiel and we would like to introduce our services to you. If you have never heard of us before, we own a small business that concentrates solely on printing envelopes for businesses like yours. The difference between us and everyone else in the business is that we have kept the operation compact using as few resources as possible while still maintaining very fast turnaround time on most orders. Additionally, we have researched the market and have kept our pricing lower than even the most discount oriented competitors.
We are currently attempting to seek out companies such as yours through our website and direct mail campaign in an effort to begin a new, long term business relationship. We want to provide you with a valuable service that is just a toll free phone call away. Again, our specialty is printed envelopes. On occasion we have been persuaded to do other types of printing but please understand that we must be selective on the other items.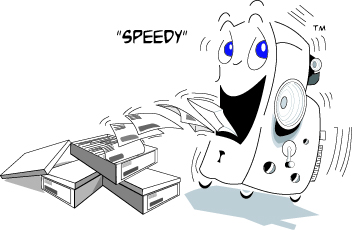 >
Our secret is in streamlined production processes that cater to a specific operation. This saves you money. We hope you will consider us when you place your next order. Our shipping via UPS is free anywhere in Kansas. Please feel free to call if you have questions about our services. We are always happy to help.
Remember, when the phone rings at SpeedPrint, Vietta and I answer personally. This means the owners are taking your order and following it through the entire process.

Thanks for your time...

Deve and Vietta Krehbiel, owners
Krehbiel's SpeedPrint