Krehbiel's SpeedPrint is totally family owned and operated. When the phone rings, Vietta Krehbiel answers the phone ready to take your order.
Deve and Vietta Krehbiel
owners

Location:
320 N Main St.
Hesston, KS 67062

Shop Hours:
8AM - 12PM
1PM - 5PM
Mon-Fri CST

Toll Free: (800) 322-6079
(620) 327-3004
Fax: (620) 327-3025
Email: Vietta@SpeedPrint.com


Our Services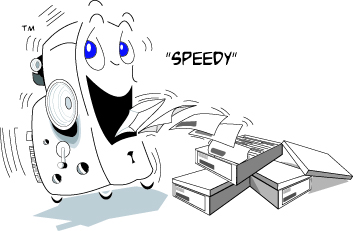 >
SpeedPrint's Services are very simple, we print your business or organizational information, logos, postal permits, and bar codes on high quality stock in the size and type of your choice. We use the Offset Printing Process which delivers a higher quality and more durable ink process than modern toner-based equipment.
Envelopes
Envelope Types include Regular, Window, Regular Security and Window Security. Sizes range from 6-3/4, #9 and #10 to the catalog sizes. But our services don't stop there! We use the latest computer technology to deliver very high quality 1200 DPI (dots per inch) reproductions of your Logos and Type.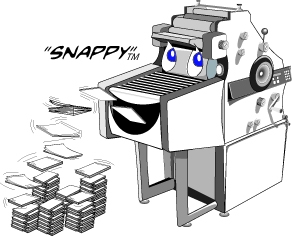 >
NotePads
We are also in the business of creating Notepads with your company information printed on each page. This has proven to be one of the most effective advertising methods available. The sheets from your notepads end up on potential customers refrigerators, file systems, desks, and bulletin boards. With 50 sheets in a pad and a chipboard backing, these high quality notepads are sure to get the attention of your customers!
Custom Single Color Printing
Our company specializes in Envelopes and Notepads generally in Black Ink. We can deliver faster and more efficiently if we limit ourselves to these specialty items. If you have long run (500 copies or more) of flat sheets or product manuals that only require 3 hole drilling, saddle stitching or folding, please let us give you a quote.
While other printers take from 10 days to 2 weeks to process your printing orders, we process and put your order on the UPS delivery truck in about half the time. Then, it's delivered right to your door! To make it even better, there are no shipping charges if you are in the State of Kansas.
We want your business and we are trying everything we can think of to get you to try us out. Free Shipping*, Speedy turnaround, High Quality Printing, High Quality Stock and a Toll Free Number. What else can we do? You tell us!
*Shipping is free in the state of Kansas. Other states are charged after leaving Kansas UPS zones. Call for out-of-state Quote!