Krehbiel's SpeedPrint is totally family owned and operated. When the phone rings, Vietta Krehbiel answers the phone ready to take your order.
Deve and Vietta Krehbiel
owners

Location:
320 N Main St.
Hesston, KS 67062

Shop Hours:
8AM - 12PM
1PM - 5PM
Mon-Fri CST

Toll Free: (800) 322-6079
(620) 327-3004
Fax: (620) 327-3025
Email: Vietta@SpeedPrint.com


Our Graphic/Text Options
SpeedPrint saves you money by only printing in black ink. This lowers our operational cost, a savings that directly translates to the price you pay for printing services. Since 1989, we have mastered our printing processes, providing you with the widest possible range of options. Black ink allows us to render virtually limitless shades of gray, from the finest off white to the deepest dark gray, and everything in between:

>
You pay so much less because you don't have to pay us for press cleanup, increased maintenance, or other downtime as with other printers.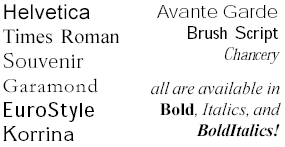 >
At SpeedPrint, your logos and artwork are copied at 1200DPI, (Dots Per Inch). The result is an extremely fine print job, with no noticeable pixels or other distortion as compared with other types of printing. These are just a few of our most popular envelope fonts!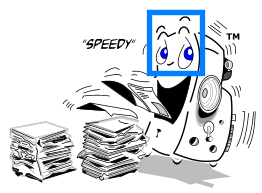 >
To further ensure your complete satisfaction, SpeedPrint offers over 12,000 font faces to exactly duplicate your Artwork. In cases where an exact match cannot be found, we will scan your document at up to 9,000DPI to ensure as precise a match as possible. In addition, we have over 2,000 of the most popular envelope fonts to choose from. For more information about our fonts please call our TOLL FREE 800 number!